A $3.3 Billion Market Opportunity
Rooted in Vancouver's pioneering approaches to planning and built forms, Vancouver's strong green building sector underpins its entire green economy — an innovative sector that employs one in 15 Vancouverites and contributes to Vancouver's $32 billion global brand. With the release of the VEC's Green Building Market Forecast (2019–2032), a clearer, more robust picture emerges of just how powerful — and valuable — the green building sector really is.
Addressing the global climate crisis has the potential to create huge new market opportunities, and Metro Vancouver is well-positioned to capitalize on them. With Vancouver's suite of innovative green building policies, particularly the Zero Emissions Building Plan, and regional implementation of the BC Energy Step Code (ESC), local manufacturers, installers, and suppliers could benefit from the $3.3 billion market for green building materials.
THE OPPORTUNITY BY THE NUMBERS
Demand for Building Products
Metro Vancouver, New Construction, 2019–2032 Forecast (cumulative)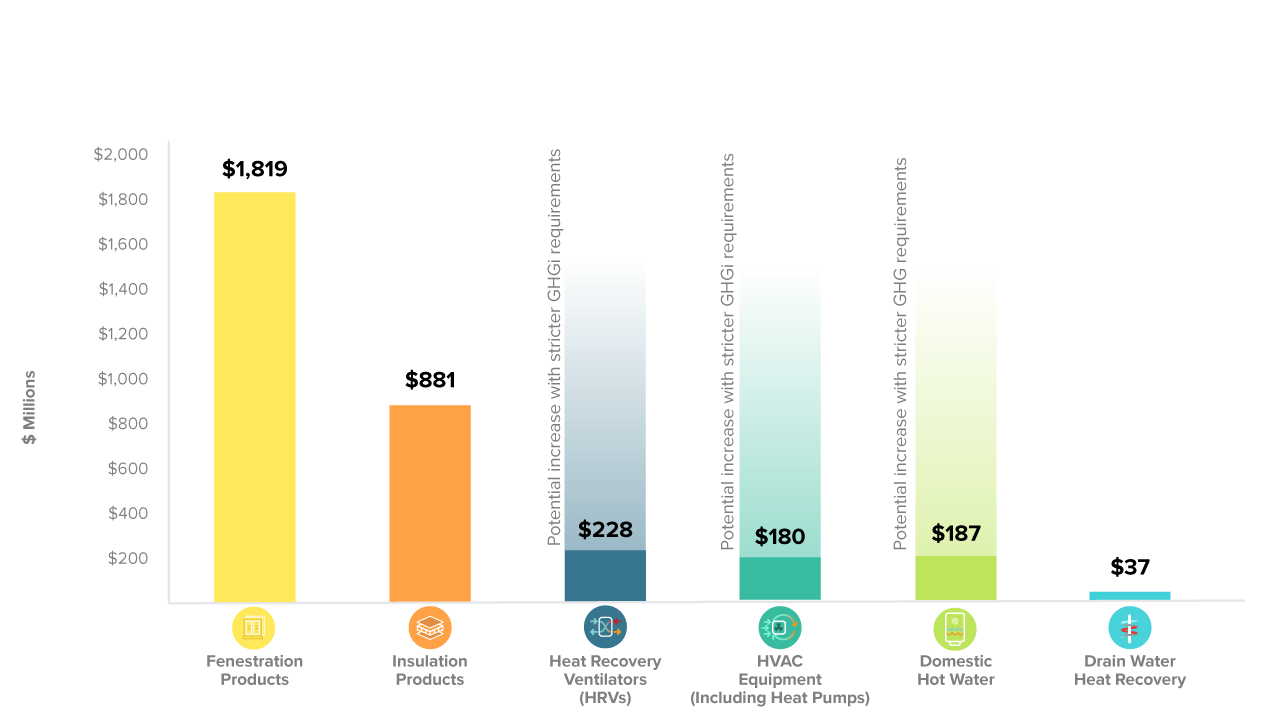 In addition to quantifying the BC Energy Step Code market demand, the Green Building Market Forecast is a must-read for anyone in the construction, development or manufacturing industries looking to understand and take advantage of upcoming trends in B.C.'s building sector.
Report Highlights
The potential economic impact of the BC Energy Step in Metro Vancouver includes creating 925 well-paying, sustainable manufacturing jobs throughout B.C., and creating 770 ongoing installation jobs in Metro Vancouver
B.C. and Vancouver businesses should act now to take advantage of markets with similar climates and advanced green building codes, including those in the Cascadia megaregion, and throughout North America
Manufacturers and suppliers must be aware of these significant market changes as soon as possible in order to act on them
Demand for low-performance products — especially windows — evaporates after 2022.
Demand for high-performance systems, including mechanical equipment such as heat pumps and heat recovery ventilators, will increase.
Green Buildings Market Forecast | Measuring the Impact of the BC Energy Step Code
Published: March 7, 2019
Author: Juvarya Veltkamp
Download the Report
How to Get Involved
Are you a manufacturer of building parts or components with a footprint in BC? We want to learn more about how we can help you. Please take this 3-minute survey.
About the Energy Step Code
The ESC provides a predictable pathway for market transformation towards net-zero energy ready buildings. The steps were developed over two years through a consensus-building process, supported by energy modelling and analysis.
The VEC built on the BC Energy Step Code's energy modelling analysis to develop a market demand forecasting tool for building products and technologies. This tool was developed in consultation with a wide range of real estate and construction industry experts, with modelling provided by the Delphi Group and funding from Discovery Foundation and BC Housing.
Supplementary Materials
Interested in the policies that could drive massive new change in the region? Read more:
Our Partners
We gratefully acknowledge the financial support of the Discovery Foundation, as well as BC Housing through the Building Excellence Research & Education Grants Program.