Myth: Industrial Business is being phased out — the future is tech
Today, Vancouver's industrial businesses face increasing pressures. Many are at risk of being displaced from the city as the cost of doing business increases, the availability of industrial operating space diminishes, and finding and retaining qualified staff gets more difficult.
Industrial businesses form an important economic infrastructure that underpins all of our economic sectors while contributing to the overall economic resilience of Vancouver. Industrial businesses not only generate jobs and wealth, they also play a significant role in the social, environmental, and cultural well-being of the community. As part of our work to better understand and serve industrial businesses, the Vancouver Economic Commission conducted a citywide survey, and interviewed dozens of industry supporters.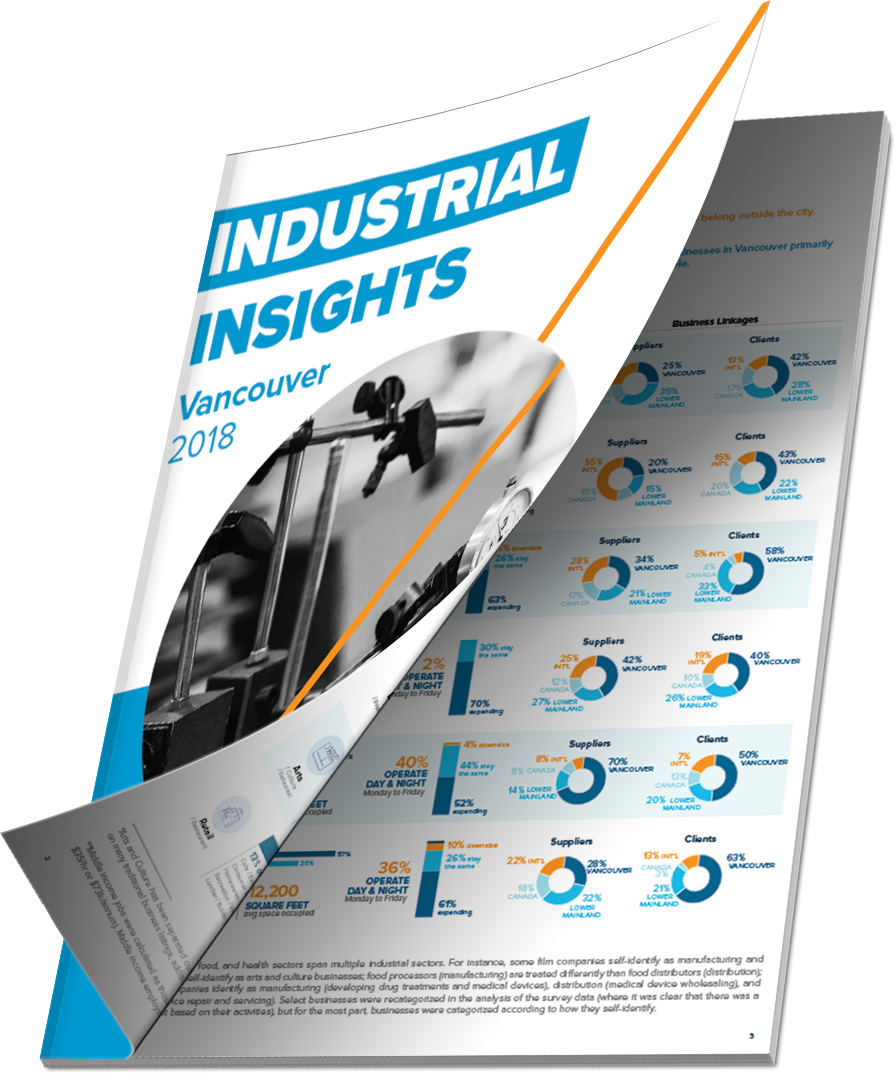 Industrial Insights | Vancouver 2018
Published: June 27, 2018
Author: Pietra Basilij
Download the Report


Printer Friendly Version
KEY INSIGHTS
Contrary to popular belief, the majority of industrial businesses in Vancouver…
Are less than 20 years old
Anticipate expanding in the next 2 years
Have been in their current space less than 5 years
Several trends are impacting demands on industrial space in Vancouver, including
An increasing global demand for specialty goods & services
The relocalization of supply chains and reurbanization of manufacturing
The integration of new technologies into industrial operations
The biggest challenges faced by industrial businesses include
Rising costs of doing business (taxes, fuel, wages, permitting & licensing fees)
Finding and retaining qualified staff
Finding appropriate and affordable operating spaces
If we don't address the challenges facing industrial operators
Up to 50% of industrial businesses could be displaced from the city in the next 5 years, taking with them 30,000 jobs, $3.6 billion in annual revenues, and $1.2 billion in annual wages
The cost of goods and services in the city will rise as services move further from the urban core
Traffic congestion and GHG emissions in the region will worsen
We will lose a variety employment opportunities, such as middle-income jobs requiring diverse educational backgrounds and jobs with lower barriers to entry
Industrial Insights | Vancouver 2018
What you can expect to learn:
The composition and impacts of Vancouver's industrial business sectors
The trends influencing industrial operations and impacts they are having on industrial space needs
The challenges industrial businesses are facing and how these are likely to impact Vancouver's economy
Opportunities for addressing some of the issues preventing industrial operators from scaling throughout the region
Partners
This research is made possible by the support of our partners.